On This Date: Granville Townsite Established (1870)
On March 10th 1870 the settlement know locally as Gastown was given its official name: Granville Townsite.
1886 – View of Granville Townsite, looking West from Main at Cordova. Archives item# Dist P8.3.
Significance:
This is the first official recognition and plan for a town in what would later become the City of Vancouver.
Background: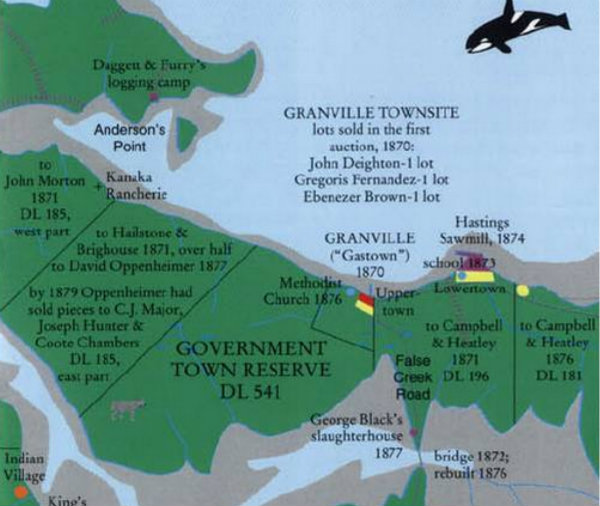 Downtown Vancouver was officially recognized when the provincial government of British Columbia laid out the 6-block Granville Townsite which was next to the Hastings Sawmill. The same year, Gastown was officially surveyed into lots and a town site called Granville was created. The lots were put up for sale, but only 3 lots were purchased. The 6-block town site was nothing more than a hotel, a mill and 3 saloons in 1870.
Three years earlier, Captain 'Gassy Jack' Deighton had established the first business in Vancouver's downtown area when he squatted on some land and built a one-room saloon that attracted the attention of local sawmill workers.
Lord Granville was the Colonial Secretary at the time and the Granville Townsite was selected as the terminus for the Canadian Pacific Railway. It wasn't until 1886 that the townsite was renamed, when it incorporated, as the City of Vancouver.
Image Source:
Macdonald, Bruce. Vancouver: A Visual History. Vancouver: Talon, 1992. Print.
---
For more information on Vancouver's planning and development milestones, please visit our Chronology Timeline.